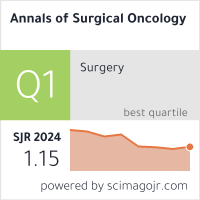 Download article (836KB)
Conservative surgery is the procedure of choice for woman with breast cancer due to its identical overall survival rate to that of mastectomy. Various studies have shown locoregional control in 90–95% of patients at the 10-year follow-up using lumpectomy or an oncoplastic procedure. Currently, local resection of the breast and sentinel lymph node biopsy (SLNB) are the most common procedures in breast-conserving surgery due to the early diagnosis of the disease, the increase in complete response after primary systemic treatment and the use of SLNB both for N0 patients and other N1 patients who meet the American College of Surgeons Oncology Group (ACOSOG) Z0011 criteria. This new context enables new opportunities for minimally invasive surgery based on a single incision that enables the simultaneous extirpation of the tumor and sentinel node using a low-visibility approach.
We conducted an observational prospective study between July 2015 and July 2018 that included women with a histological diagnosis of infiltrating carcinoma or ductal carcinoma in situ who underwent surgery with a breast-conserving technique in our breast unit. We excluded from the study those patients with T3-T4 tumors, those who were indicated mastectomy as the primary surgery and those who refused to participate in the study. The study group consisted of the patients in whom tumor extirpation (tumorectomy or oncoplastic technique) and lymph node staging (SLNB or AL) was performed simultaneously using a single incision
A total of 226 patients (152 in the study group and 74 in the control group) met the study's inclusion criteria, 152 of whom successfully completed the breast and lymph node removal with the single-port approach (98.7% overall success: 97.6% for lumpectomy and 100% for oncoplasty). There were no significant differences in postoperative complications, although there was a greater tendency towards breast seroma in the study group and axillary neuralgia in the control group. Both groups presented a similar rate of breast and axillary salvage surgery. The postoperative assessment using the Breast-Q™ questionnaire showed that the study group had greater satisfaction with the breast and the surgeon's information.
Conclusions. The single-port approach for breast-conserving surgery is as effective as standard surgery with custom incisions in terms of breast resection, lymph node staging and complications. There was greater satisfaction with the breast results and information among the women who underwent the single-port approach.